Strange, but it was fresh and amazing: the concert audience was shown on the screen while G-Dragon moved in such a lively way it looked like he actually was on the stage. Stories of G-Dragon was showing on the 5 different screens installed around the concert hall.
This concert has a distinctive advantage from a regular concert. G-dragon's Hologram concert "AWAKE" was more advanced compared to the other hologram concerts. This concert used advanced technologies of Holographic images and 3D stereoscopic projection mapping. In particular, this concert showed the life story of G-dragon in a storytelling format. The 14.2 channel sounding system, colorful lights and lasers in collaboration with the fog and soap bubble gave a great impression. G-dragon held a special preview concert at the K-live concert hall in Dong Dae Moon.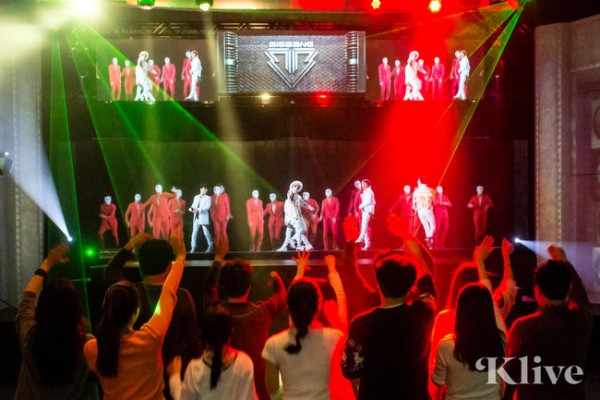 Photo Cr: K LIVE
At this special concert, managing director Lee Mi Young said "GD's concert 'AWAKE' is creative and distinctive from other concerts. Big Bang, 2NE1, Psy held several concerts in this hall. Most of audiences were foreigners and had more than 60,000 visitors." Then she added, "This concert is about GD's life stories, not an ordinary performance. We will make more concerts of Korean stars, and utilize different concepts of concert." G-Dragon introduced a "Hologram concert is not that familiar to audiences, and this concert is more like a movie. This concert contains the story of my old days." G-Dragon's hologram concert starts with the biography of G-Dragon, and continues with his performances including "High High," and "Heart breaker."
Beginning on April 1, G-Dragon's Hologram concert will be held everyday except Mondays at 7 P.M in Dong Dae Moon K-live concert hall.
Korea.com's Emily You (maintyoung@korea.com) contributed to this report from Seoul.