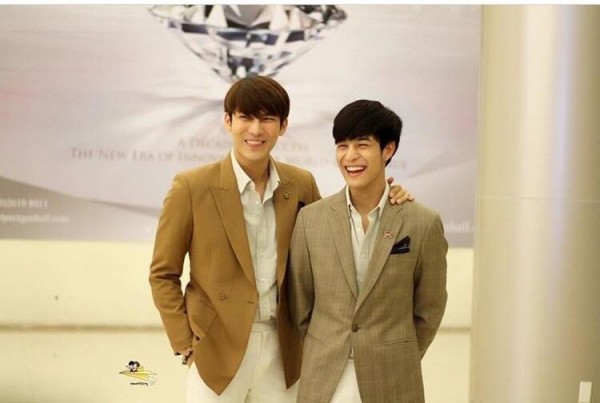 Thai Superstars Mew Suppasit  and Art Pakpoom   gained popularity  in the tv series "what the duck the series" in January 2018.  Like  a phoenix who came into the limelight of Kpop world so fast.  they both have good chemistry in portraying their roles. They  have seen a good working relationship both can sing and dance. Mew can also play the guitar and can speak in english.  Art seems to be so charming with his smile and good dancing skills and good singing voice , same with Mew they can be both be an actor and a singer. They are both active in social media, they have hundreds of thousands followers in instagram and twitter account .Together they work hard to communicate to their fans not only in Korea but in other countries like , Indonesia, Brazil, Philippines , Taiwan, and Thailand and other countries. They love to communicate through live broadcast to keep in touch to their fans which helped them to become more popular. Just recently they already had their fanmeet in the Philippines and soon to have new tv series. 
In just a matter of a short span of time  they both achieved fame and fortune , they are like a phoenix that rose from  sleeping in the past and fly so high  to stardom.  They both  remain  humble and simple.   They manage to keep their feet planted on the ground. Their simplicity and humbleness will surely bring them to the journey of success.  Worldwide success is just within their grasp. They just have to keep going and persevere more determination and confidence.  They are also like the moon covering the sun and makes the dark sky beautiful to see. 
Other Thai superstars  who became famous in Kpop world are Bam-Bam  of Got 7 , Nichkhun of 2PM, Lisa of Black Pink,  Ten of NCT. 
To Mew and Art we wish them all the best on their new TV Series to be aired very soon. We wish them all the best!  Fighting! 
credit photo to mewartfamily/ mewartlovelyhome/browieK
written by korea/com's -  gikimtan